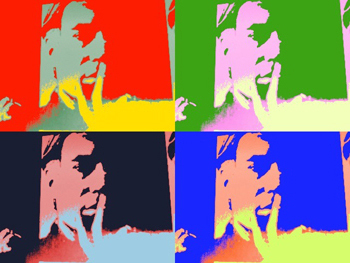 Image by Eduardo Navas, December, 2007
Note: Diary of a Star was part of the exhibition "My [public] Space" in Amsterdam, from May 23 to June 21, 2008. The premise behind the exhibition in part follows the line of thought originally developed for Diary of a Star. Thanks to Petra Heck for including my work in the show.
Diary of a star context: http://navasse.net/star/Context.html
Full text of exhibition follows below. Source: nimk.nl
May 16, 2008
With Twitter, a new application in Web 2.0, all you have to do is push a button to send a message to all the people you have promoted to your social network. The idea is that you indicate where you are, so that you can be 'followed' physically or mentally. The question is what need we have for a service like that. Do we really want to make everything public, known "and traceable".
Andy Warhol was doing it already in the 1970s: showing and sharing as many insignificant details as possible. His magazine Interview was full of transcriptions of inane conversations; every telephone call was important enough to tape or write up. The desire ? and the means ? to be visible everywhere at all times was invented by Warhol in the same decade. With the arrival of Web 2.0 the internet makes this possible for everybody, not just for superstars like Edie Sedgwick, who in Warhol's Screentest films doesn't do much more than smoke, chatter and sneeze: nothing special. Forty years later there are suddenly millions of people watching television programs like Big Brother, in which people off the street are filmed sleeping, eating and talking about not much in particular.
With the advent of Web 2.0 powerful media are no longer necessary for realizing a relative ?15 minutes of fame?. Bloggers (webloggers) report every detail of their lives in an online diary that anybody can call up and read on their computer. The difference between an online blog and an old-fashioned diary is that online the content is being revealed for an unknown audience. The dividing line between private and public gets blurred. The text can be rather personal, while still functioning in the public domain. Since bloggers are implicitly aware of this, the information can be regarded as being tainted. The dichotomy between public and private that so interested Andy Warhol becomes visible here.*