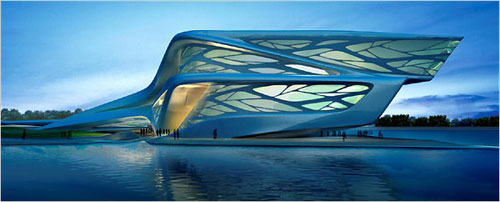 Zaha Hadid's design for a performing arts center for an island in Abu Dhabi.
Image and text source: New York Times
February 1, 2007
ABU DHABI, United Arab Emirates, Jan. 31 — In this land of big ambition and deep pockets, planners on Wednesday unveiled designs for an audacious multibillion-dollar cultural district whose like has never been seen in the Arab world.
The designs presented here in Abu Dhabi, the capital of the United Arab Emirates and one of the world's top oil producers, are to be built on an island just off the coast and include three museums designed by the celebrity architects Frank Gehry, Jean Nouvel and Tadao Ando, as well as a sprawling, spaceshiplike performing arts center designed by Zaha Hadid.
Mr. Gehry's building is intended for an Adu Dhabi branch of the Guggenheim Museum featuring contemporary art and Mr. Nouvel's for a classical museum, possibly an outpost of the Louvre Museum in Paris. Mr. Ando's is to house a maritime museum reflecting the history of the Arabian gulf.