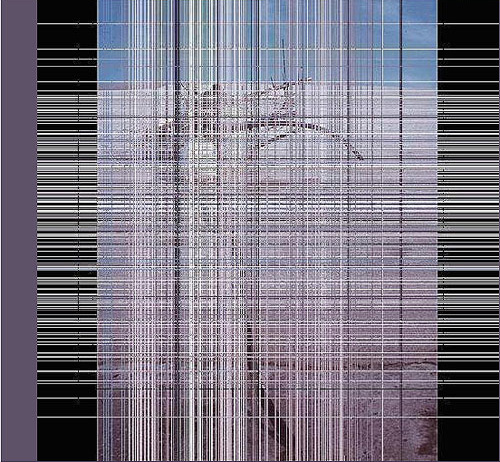 Source netartreview.net
Originally published on November 20, 2003
Republished: November 30, 2003
Also published on Furtherfield.org
November, 2003
Le Catalogue: http://www.x-arn.org/wiki/LeCatalogue
This review was re-edited for Remix Theory.
In Le Catalogue, Yann Le Guenec has developed a public database of documentary images (an archive) of art projects which he created between 1990-1996. Every time an image is viewed, a horizontal line and a vertical line forming a cross are added; the image is then stored for access by another user. The more the images are accessed, the more they are abstracted or — if one is thinking of art conservation — destroyed.
Here, the archive is similar to analog vinyl records losing their fidelity, being slightly deteriorated every time the needle passes through the groove. Unlike a record player, however, which is fabricated with the aim to provide the least damage possible while offering an aesthetic experience for the user, Le Catalogue actually makes the most of destruction in order to create a unique image for the present user. The image is unique  because each time the same file is accessed, two more lines will be added.
In this way, Le Catalogue reinterprets the idea of destruction as progress, bringing on the new. One can look forward to destruction as a type of online collaboration; the archived information is not preserved but rather reinterpreted as information constantly shifting. History is here dependent on linear traces that expose the instability of interpretation; much like tree rings, traces are left behind by the process, leaving us with an allegorical database presenting destruction as an inevitable part of life.