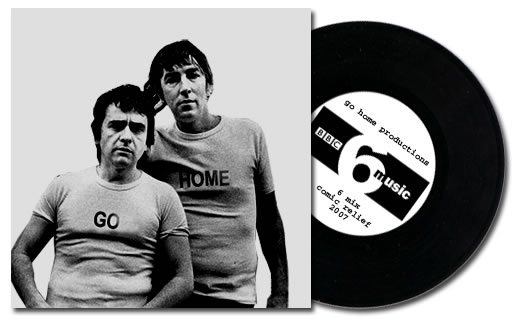 Image source: gohomeproductions.co.uk
Text source: earcandy_mag.tripod.com
December 17, 2004
Intro:
Some call it artistic musical creations, while others cry that it is blasphemy! It is all the rage in the U.K. and it has even gone mainstream, with MTV U.K. celebrating it on "MTV-Mash". This new craze is called "mash-ups" and it involves taking the vocal from one song and joining it to the instrumental track of another. For instance, take a "mash-up" like "Paperback Believer", which uses the musical track of the Monkees "I'm a Believer" with the vocals from The Beatles "Paperback Writer".
Probably the best-known of the recent mash-up's is the notorious "Grey Album" by Dangermouse, which mixed Jay-Z's "Black Album" with The Beatles "White Album". In February, when the record label EMI overreacted and blocked distribution of "The Grey Album" it pretty much created an instant hit.
And earlier this year, David Bowie had a contest in which he asked fans to create a new song using computer music software to blend or "mash up" two existing tracks – with the winner winning a car!