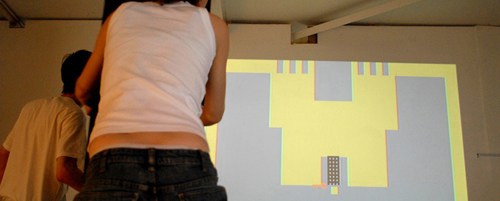 Image and text source: gallery@calit2
The following text and interview were written for the exhibition "An 8-bit Moment in Gameplay: [giantJoystick]," featuring a ten-foot scale working model of the Atari Joystick by artist and media theorist, Mary Flanagan. The exhibition takes place from February 4 to March 17, 2008. You can read more about it at http://gallery.calit2.net.
Both, text and interview, focus in part on the concept of gameplay and its relation to the mainstream as well as the fine arts. The texts are worth archiving in Remix Theory because they shed light on video game culture which, as it's no secret, relies extensively in concepts of appropriation intimately linked to the current practice of remixing (Remix). For instance, video game players, or gamers, are no longer only expected to play games as out of a package, or as released online; gamers are expected to actually contribute to the game infrastructure by customizing it, either for personal play, or for the enjoyment of the larger community, following the tradition of open source. Examples of this activity are numerous (see Wikipedia list).
Video game culture is in large part fueled by the same principles that have made networked culture possible: the possibility to share and remix code as desired, to then re-release it for the community to use and improve upon, again. This tendency follows my proposition about the blogger which encapsulates a consumer/producer model that is proactive in media culture. Some skepticism is healthy here, and it must be acknowledged that romanticizing such model is a real danger for new media and remix culture.
The following texts, then, offer a window to some of the issues that inform gameplay today. The texts can be considered valuable because they reflect upon and extend the opinion of one of today's gameplay insiders, Mary Flanagan.
TEXT: An 8-bit Moment in Gameplay: [giantJoystick]
gallery@calit2
Atkinson Hall
University of California, San Diego
February 4 to March 17, 2008
Featuring [giantJoystick] by Mary Flanigan
gallery@calit2 proudly presents "An 8-bit Moment in Gameplay: [giantJoystick]," featuring a working, large-scale game-interface-sculpture designed for collaborative play by artist and media theorist Mary Flanagan. [giantJoystick] (2006) takes us back to the early days of video games when they entered the home. It features classic Atari games from the 1980s, including Adventure, Asteroids, Breakout, Centipede, Circus Atari, Gravitar, Missile Command, Pong, Volleyball, and Yar's Revenge. The recontextualization of such classics opens a space to reflect on the brief and dense history of video games and the aesthetics of play.
Video game consoles, which offered low-resolution graphics known as 8-bit, were made popular in large part by Atari in 1977. However, video games did not enter the average household in full force until the early 1980s. To many, the years 1979 to 1986 are remembered as the "golden age" of video games – a period when popular culture would also be exposed to digital technology with the introduction of the personal computer. It is, then, not surprising that video games entered the home in this time period. Flanagan's [giantJoystick] takes us back to this pivotal moment by turning the Atari joystick into a work of art, which carefully combines her interests in art-making as well as gameplay.