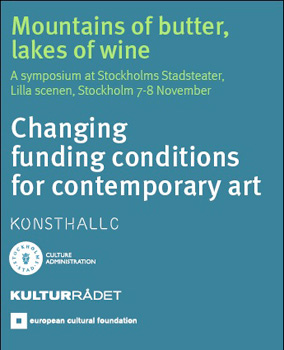 Image source: almostreal.org
Written for Swedish Traveling Exhibitions, December 2009
Note: The following text is one of two originally published in the magazine Spana!, a publication for the Swedish Traveling Exhibitions (now called Swedish Exhibition Agency). I never got around to releasing the English version of the text until now. It contextualizes how I saw exhibitions developing in Sweden during my residency.  It starts with a lecture I attended during an international symposium on contemporary curatorial practice, and revisits notes on the different art institutions I visited during my residency in Sweden in October and November of 2009. This publication in many ways is a complement to the list posted below.
The second text is Code Switching: Artists and Curators in Networked Culture.
The list of previous posts:
Sweden: October/November 2009
Notes on Sweden's Approach to Art and Exhibitions:
Färgfabriken: http://remixtheory.net/?p=401
Interactive Institute: http://remixtheory.net/?p=402
Magasin 3: http://remixtheory.net/?p=403
Iaspis: http://remixtheory.net/?p=404
Mejan Labs: http://remixtheory.net/?p=405
Various Museums in Gothenburg: http://remixtheory.net/?p=406
———–
At the end of 2009, the international approach to exhibitions across museums and public institutions appears to emphasize themes over history.  This trend was recognized by Curator Jan Debbaut on Saturday November 7, during his presentation at the Symposium "Mountains of Butter, Lakes of Wine," which took place at the Stadsteater, Stockholm.  This shift has not only changed the way exhibitions are funded internationally, as Debbaut noted, but also how they are approached and contextualized.  In 2009, the thematic approach repositions exhibitions as forms of communication beyond the four walls of the galleries, affecting all types of exhibiting institutions, not just museums.  In my view, this resonates with various institutions I visited in Stockholm and Gothenburg during the months of October and November of 2009, as Correspondent in Residence for the Swedish Traveling Exhibitions.  The following is an evaluation of how such institutions organize exhibitions as tools of communication.