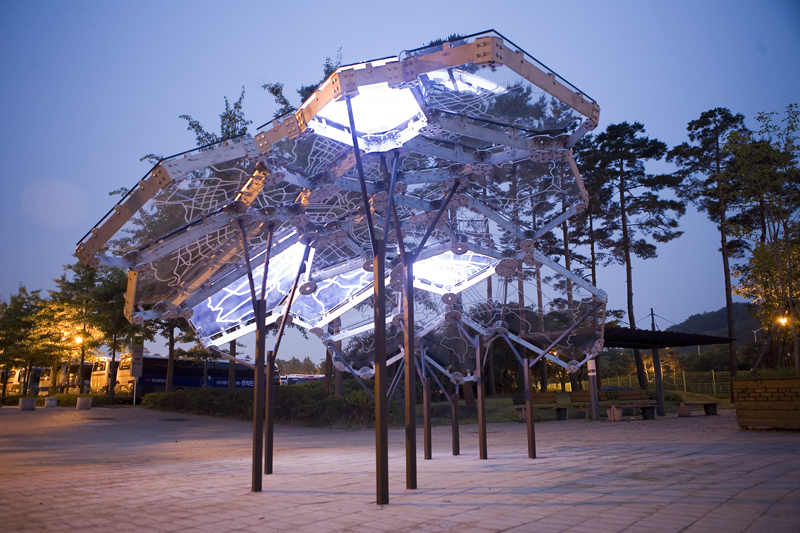 Living Light, designed by Soo-in Yang and David Benjamin
Image source: livinglightseoul.net/
This text was commissioned for the publication Future Exhibitions, Swedish Traveling Exhibitions, published in 2010. It is released as the third and last in a series of texts that were written during and after my residency for The  Swedish Traveling Exhibitions.
For the other texts, see:
1) When the Action Leaves the Museum: New Approaches to the Exhibition as a Tool of Communication.
2) Code Switching: Artists and Curators in Networked Culture
Note: This text is a brief analysis of the way exhibitions and art works were being redefined in 2010 and before by  the  growing ubiquity of interactive technology in art production and its presentation in art centers as well as public spaces.  Even though culture has experienced quite a few changes in social media and other forms of communication since this essay was originally written, the text is released online as a complement to its other forms of publication because it holds a critical position that is not contingent upon specific trends, but on long standing questions of art production.
Exhibitions at the beginning of the twenty-first century are becoming spaces of flux.  The usual static exhibition and installation with labels and proper cues for visitors to keep a safe distance—which is likely the default image that comes to mind when one thinks of museums and other public institutions—is being replaced by displays and installations that encourage some form of visitor interaction.  Interactivity can take place directly with the object, an online resource, or downloadable virtual tours, often with the aim not only to have an aesthetic experience but also to inform visitors on some issue.  While this new approach is certainly exciting, it also places real challenges for institutions in the arts and other fields on how to organize exhibitions that resonate with the contemporary audience.  In this regard, exhibitions tend to borrow from new forms of interaction often linked to artistic expression to highlight and bring audience's attention to relevant information.  In what follows some of the variables that make exhibitions spaces of flux that increasingly rely on creative and even artistic solutions for engaging the audience will be discussed primarily in relation to art but will extend to other fields such as architecture, design, and the public space.